Extinction Rebellion: Police order activists to move or face arrest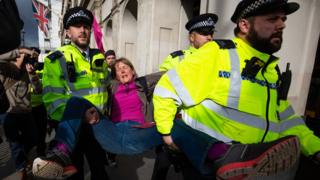 Extinction Rebellion activists intending to continue protesting in central London "must" go to Trafalgar Square or risk arrest, police have warned.
Police enforced a Section 14 notice to stop "serious disruption" to communities, after officers removed those camped out in Westminster.
Police have made 471 arrests over the two days of protests.
The prime minister has described the activists as "uncooperative crusties".
But campaigner and TV presenter Chris Packham said they are "the concerned people of the world."
Extinction Rebellion activists are protesting in cities around the world, including Berlin, Paris, Amsterdam and Sydney, and are calling for urgent action on global climate and wildlife emergencies.
Protesters say they are occupying 11 sites in central London and people have travelled from across the UK to take part in the demonstrations.
Activists glued themselves to a government department and to the underside of a lorry outside another.
A protester who attached himself to the top of a trailer with a bike lock for more than 28 hours in Trafalgar Square was arrested and removed from the area by five police officers.
The Metropolitan Police said at 15:20 BST on Tuesday there had been 471 total arrests over the two days, including 152 on Tuesday.
Police have enforced a Section 14 Notice of the Public Order Act 1986, forcing those who wish to continue protesting to move to the pedestrianised area around Nelson's column in Trafalgar square.
Anyone suspected of breaching the condition – which has no time limit – could be arrested and prosecuted, police said.
A Section 14 order allows the police to impose conditions on a static protest – where campaigners are gathered in one place, rather than marching.
To impose the condition, police must have evidence that serious disruption is being caused to communities.
Activists have attached themselves to the underside of a lorry, which is blocking the road outside the Home Office.
The vehicle is parked on Marsham Street, where hundreds of protesters set up camp overnight. One activist climbed on top of the lorry and set up a tent.
There was a large police presence in the area on Tuesday, with pictures showing officers removing activists from the lorry.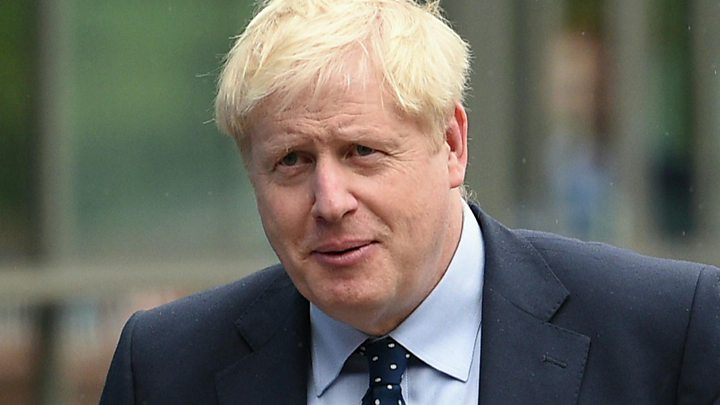 Protesters have also glued themselves to the Department for Transport building – a tactic used in similar protests in April.
Two activists have attached themselves to the doors of the building, while others demonstrate outside.
Meanwhile, a group have placed 800 potted trees outside Parliament, in Old Palace Yard, as they call on the government to plant billions of trees across the UK.
Trees have been dedicated to MPs, and protesters hope they will use them to reforest the country.
Sean Clay, 36, from Newcastle, told the BBC: "Planting trees would go a long way to restore the habitats we have lost as well as absorbing carbon emissions."
Asked about Boris Johnson's description of demonstrators, Packham told the BBC's Victoria Derbyshire programme: "I was there yesterday. I met farmers, I met teachers, I met scientists, I met lawyers, I met grandparents, I met mothers and fathers, and I met children.
"These are the concerned people of the world."
Mr Johnson had suggested while attending a book launch on Monday that the demonstrators should abandon their "hemp-smelling bivouacs" and stop blocking roads.
Protester Claudia Fisher, 57, from Brighton said campaigners would like to discuss their views with the prime minister.
Responding to his description of activists as "uncooperative crusties", Ms Fisher said: "We are a little bit crusty, I'll put my hands up to it, after a night sleeping out on the grounds of Whitehall, but we're not uncooperative.
"We're actually very co-operative. We… would really like to hear what he has to say, and we'd really like him to… hear what we have to say."
John Curran, a 49-year-old former detective sergeant for the Metropolitan Police, was one of the protesters who camped overnight.
Mr Curran, who has a three-year-old daughter, says he was arrested while protesting with Extinction Rebellion in April, and is willing to be arrested again.
He said: "Clearly there is some frustration (for the police) that they probably have better things to be doing, and I agree, but the responsibility for that must lie with the government.
"Take action, and we won't have to be here."
Activists camped at Smithfield Market overnight, but say they allowed traders to operate.
'A last resort'
By Becky Morton, BBC News
The only rush hour traffic around Parliament this morning came from cyclists, who were cheered as they passed encampments of protesters dotted around Westminster.
Roads have been blocked by tents and gazebos, with protesters from all over the country camping overnight.
Bowls of porridge were served from food trucks, while volunteers said some local businesses had donated pastries.
One of those who spent the night here is Mikaela Loach, 21, who travelled down by bus from Edinburgh with a friend.
She said taking part in this week's action was a "last resort".
"I've spoken to my local MP, I've taken part in protests, I just feel like I haven't been listened to," she said.
"I have been changing things in my lifestyle for a long time to try and be more eco-friendly, but I had a realisation a few months ago that it doesn't matter if I go vegan or zero waste if the government doesn't do anything.
"There need to be big structural changes."
In an update at 15:39 BST on Tuesday, Transport for London (Tfl) said road closures included the Strand in both directions between Lancaster Place and Trafalgar Square; Trafalgar Square itself and Whitehall in both directions.
Also closed are Parliament Square; Marsham Street; Horseferry Road; and Millbank in both directions between Parliament Square and Horseferry Road.
All bridges remain open, however there is no access from Westminster Bridge into Parliament Square.
Extinction Rebellion claims protests in the capital will be five times bigger than similar events in April, which saw more than 1,100 people were arrested.
What is Extinction Rebellion?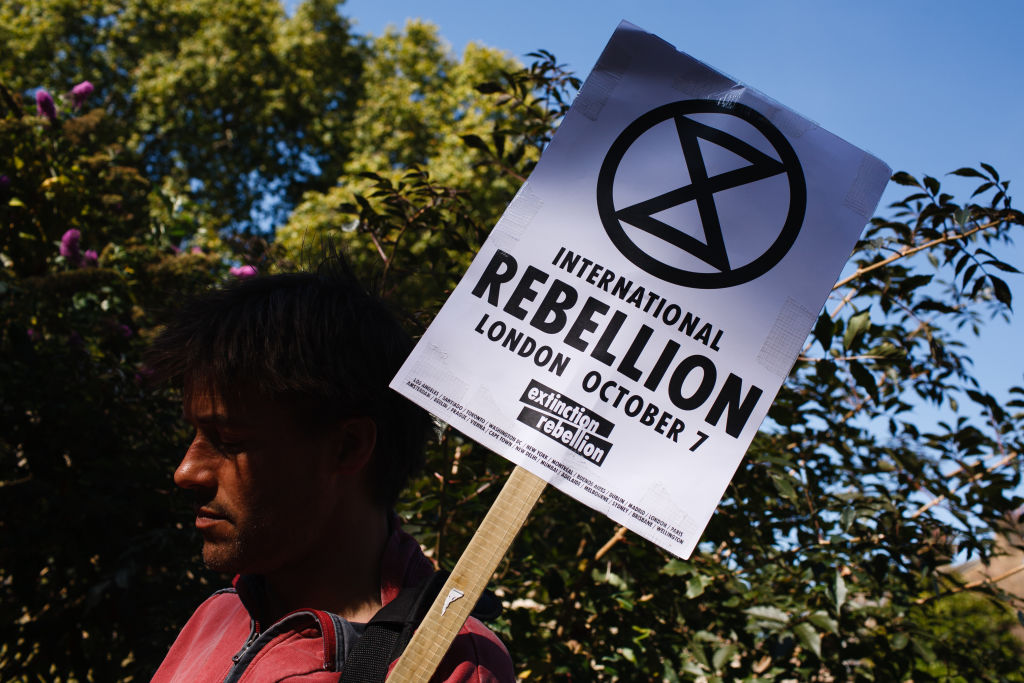 Getty
Extinction Rebellion facts
2025year when the group aims for zero carbon emissions

298,000followers on Facebook

1,130people arrested over April's London protests

2018year the group was founded
Source: BBC Research
Extinction Rebellion (XR for short) wants governments to declare a "climate and ecological emergency" and take immediate action to address climate change.
It describes itself as an international "non-violent civil disobedience activist movement".
Extinction Rebellion was launched in 2018 and organisers say it now has groups willing to take action in dozens of countries.
In April, the group held a large demonstration in London that brought major routes in the city to a standstill.
activists
,
arrest
,
Extinction
,
face
,
move
,
order
,
Police
,
Rebellion